8 July 2023
Europe Class World Championships 2024 in Hanko with Škoda as main cooperation partner
Finland has the honour to organise the Europe Class World Championships in Hanko in the summer of 2024. The responsible organisers are Hangö Segelförening (HSF) and Suomen E-jollaliitto – Europe Class Finland. Our main cooperation partner and sponsor is Škoda Finland. The cooperation was made public during the Alfons Håkans Hanko Regatta on 8 July 2023.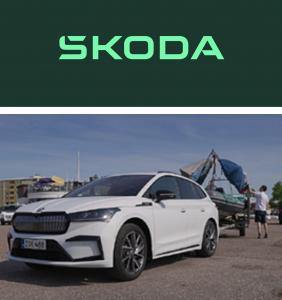 The International Europe Class Union awarded the 2024 Championships to Finland, to the Hanko-based yacht club Hangö Segelförening (HSF). The competition taking place from 23 July to 3 August 2024 is organised in collaboration with Europe Class Finland, backed by the Finnish Sailing and Boating Federation Suomen Purjehdus ja Veneily (SPV) and the International Europe Class Union (IECU).
"It is great that Hanko has been awarded to host an internationally recognised and demanding regatta. We have a strong sailing tradition and the competence to organise an event of this scale. The city of Hanko will have its 150th anniversary next year, so the World Championships are part of our anniversary celebrations", Mikael Lindqvist, Commodore of the yacht club HSF comments on the news.
"Through the cooperation with Škoda Finland, now made public, Europe Class Finland wishes to promote our shared goals: to support the young in an instructive hobby, at the same time respecting environmental values. The cooperation provides our young sailors with a high-level sports experience while the international guests are offered a taste of the unique Hanko environment and atmosphere. This plays a great role for the sailing sports at large," Juha K. Laurila of Europe Class Finland adds.
Cooperation partners united by shared values
Yachting and sailing carry values such as almost emission free and silent moving, social responsibility and respect for the environment. Likewise, Škoda Auto has made a commitment to minimise the environmental impacts of its business. Part of the company's GreenFuture strategic aims, climate protection and social responsibility cover the entire value chain, accompanied by the support of natural diversity worldwide. In line with these objectives, the manufacture of all Škodas will be carbon neutral by the year 2030.
"It is a great pleasure for us to be the main cooperation partner of the World Championships. During the event, the race organisation ashore will avail of fully electric Škoda Enyaq iV SUVs which have zero local emissions and which are also now delivered to our customers in a carbon neutral manner. We also share the objective of supporting young sailors' dreams and providing them with new paths towards the future," CEO Maija Koskela of Helkama-Auto Oy, the Finnish importer of Škoda points out.
Europe Class is technically challenging and rears top sailors
The Europe Class World Championship competitions last for about two weeks. The first week is dedicated to the Open Week whereby the sailors who have not been qualified in national qualification events can contend for a place in the following week's World Championships. Hanko is expecting as many as 150 yachtsmen and women from over ten countries.
Europe Class is an internationally recognised dinghy class where various major events take place in junior, senior and masters levels. Today, Finland has about 40 actively competing Europe Class sailors between 15 and 50 years of age. Europe Class was a recognised Olympic class up to the year 2004. Various Finnish top sailors, such as Sari Multala, Thomas Johansson, Kaarle Tapper and Oskari Muhonen started their careers in this class which is technically challenging.
MORE INFORMATION
Mikael Lindqvist
Commodore
Hangö Segelförening (HSF)
tel. +358 40 568 7745
mikael.lindqvist@pp1.inet.fi
Juha K. Laurila
Europe Class Finland
tel. +358 50 483 6348
juha.laurila@espoonpursiseura.fi
Kari Aalo
Communication Manager
Helkama-Auto Oy, Škoda Suomi
tel. +358 41 546 6006
kari.aalo@skoda.fi
Helkama-Auto Oy has been the importer of Škodas since the year 1947. Through this long cooperation, Helkama-Auto is Škoda's most long-lasting importer-cooperator. The Škodas sold in Finland include the fully electric SUV Enyaq iV and Enyaq Coupé iV and the combustion engine models Karoq, Kamiq, Superb, Octavia, Scala and Fabia. www.skoda.fi
Europe Class Finland (ECF) is the national federation of the Europe class, promoting the respective sailing sports in various ways with the national sailing federation (Suomen Purjehdus ja Veneily), yachting clubs and International Europe Class Union, IECU. In terms of the number of participants in the national ranking series, the Europe Class is the most active dinghy class for grownups. www.europeclass.fi
Hangö Segelförening (HSF) is a yacht club founded in 1906, and right from the beginning, its main focus has been on race sailing. The club has strong competence and years of experience in organising large-scale national and international events in various classes.
---
19 January 2023
Europe Class -purjehduksen MM-kisat Hankoon 2024
Kansainvälinen E-jollaliitto (International Europe Class Union) on päättänyt myöntää vuoden 2024 maailmanmestaruuskisat Suomeen, hankolaiselle pursiseuralle Hangö Segelförening (HSF). Kisat järjestetään 23.7.-3.8.2024.
Maailmanmestaruuskisoja purjehditaan noin kahden viikon ajan. Ensimmäisellä viikolla purjehditaan Open Week, jolloin ne purjehtijat, joita ei ole valittu kansallisen karsinnan kautta, voivat kilpailla paikasta itse MM-kisassa, joka purjehditaan toisella viikolla. Hangon MM-kisoihin on odotettavissa jopa 150 purjehtijaa yli kymmenestä maasta.
HSF:n kommodori Mikael Lindqvist on tyytyväinen kansainvälisen liiton päätökseen. "On hienoa saada tämä arvostettu purjehduskilpailu Suomeen ja Hankoon. Kaupunki täyttää 150 vuotta ja nämä MM-kisat tulevat olemaan osa kaupungin juhlavuotta," hän iloitsee.
HSF toimii kisajärjestäjänä ja Suomen E-jollaliitto on mukana valmisteluissa.
Europe Class on kansainvälisesti arvostettu kevytveneluokka, jota purjehditaan niin juniori-, seniori- kuin masters-tasollakin. Suomessa on tällä hetkellä noin 40 aktiivista E-jollapurjehtijaa ikäluokassa 15-50. E-jolla on ollut olympialuokka vuoteen 2004 asti ja moni suomalainen huippupurjehtija, mm. Sari Multala, Tomas Johansson ja Oskari Muhonen, on nuorempana terävöittänyt taitojaan tässä teknisesti vaativassa luokassa.